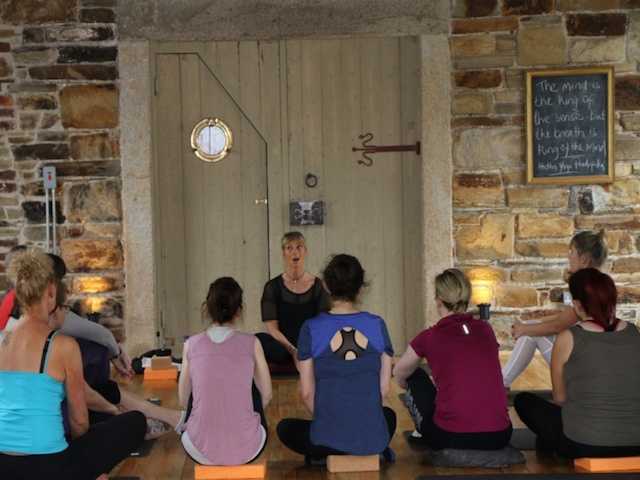 Active Balance Yoga Retreat 18th-20th January 2019
Let's rid those feelings of sluggishness and lack of motivation which tend to follow after the busy Christmas period of over-indulgence in rich foods and alcohol, office parties, late nights and family meals, all good fun but let's reset and get back on track!
Highlights
Special hatha yoga practice to stimulate the digestive system
• Yoga to re-energise the body and rid it of sluggishness
• Country walk – burn some calories & inhale clean Wicklow air
• Delicious vegetarian food, free of refined sugars, fat and dairy
• Reset your digestive system and break habits
• Detox your mind from over stimulation of Xmas activity
• Time for reflection
• Reset focus and goals
• Disconnect when possible from phones, etc
• Detox from social media, take a break!
• Have some fun & make new friends
• Relax, eat well and enjoy!
This retreat offers the perfect opportunity to reset and restore your body and mind and find balance through the practice of yoga in the beautiful and peaceful surroundings of The Courtyard. Reset your digestive system with delicious, nourishing and healthy food prepared and cooked by Olivia and her team. After the weekend you'll feel balanced, rested yet energized, focused & positive, with a lightness of body and clarity of mind.
January can be a month in which many of us experience feelings of sluggishness, heaviness and lack of motivation.  Following the busy Christmas season, over indulgence in rich foods and alcohol, over stimulation, mentally and physically, it's a time when many suffer with digestive problems, heaviness and lack of motivation.
From an Ayurvedic perspective, January finds us in the season of Kapha, winter to early spring. One of the most helpful ways to restore balance to the Kapha dosha within us, is through yoga practice which addresses the seasonal decrease in digestive function and associated feelings of sluggishness.
This involves stimulating and re-igniting the Jatahara Agni (digestive fire) which resides in the area behind the naval. We will include asanas (postures) such as twists and gentle backbends to stimulate the digestive fire and restore balance to the processes of digestion and assimilation.
We will prepare the body safely through the step by step approach known as Vinyasa Krama to bring us into a gently flowing practice which will include these useful postures and we will also work to find stillness and integration through restorative practice with props and bolsters and gentle breath work. Each student will be encouraged to work at their own pace and modifications and variations of each posture will be discussed and explored where necessary. This will ensure that students of all levels from beginners to advanced practitioners will benefit from this retreat and will practice in a safe and non-competitive environment.
To see our retreat listing or to book your retreat click here