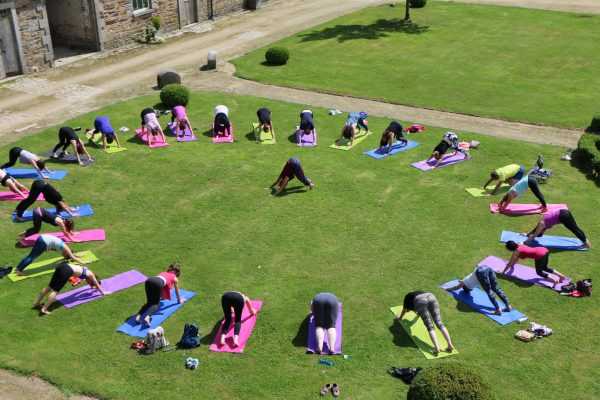 10 Reasons to come on a yoga retreat at The Courtyard Yoga Retreat in Wicklow, Ireland.
1. You'll take your yoga to the next level.
Either starting yoga for the first time or already a regular it is not always easy to find time to immerse yourself in yoga practice when you have a busy schedule and other responsibilities to distract you. Retreat time is 'me' time where you can immerse yourself in the yoga practice without the guilt that you should be doing something else.
2. Take a break
Getting away creates an opportunity to reflect and see yourself and your life from a different perspective. This may be from a perspective of appreciation of your current life or it may in fact encourage you to make some changes in your life, it can also help to give you focus.
3. Disconnect from digital devices
We encourage you to detach yourself from your mobile phones, ipads, etc during your stay. It feels so great to just disconnect!!! Even if it is just for a few days!
4. You will leave your stresses behind
On entering the courtyard gate you will leave your stresses of everyday life behind you and settle into the calming environment of the courtyard retreat. The courtyard gives a sense of seclusion and calm and stillness. You will completely relax. Sometimes we have to be far from home to let ourselves truly relax.
5. A retreat like no other
The Courtyard is our family home. The courtyard was a Victorian model farm. The courtyard consists of the main house which was originally the steward's house and 4 large farm houses within the courtyard. The property is steeped with history and each house has a story to tell. The Dairymaid's house, The Groom's house, The saddler's and Tindal's cottage. The beautiful Carriage House was specially renovated as our yoga room. The houses have been painstakingly restored and all existing features were retained which give the houses a very special ambience.
6. Free from – gentle detoxing
The retreat even if it is a short one that you come on gives you the opportunity to break food addictions such as fatty salty foods or refined sugars, it gives you the opportunity to reset your digestive system and eating habits. We spoil you with tasty & creative vegetarian food, free from refined sugars, dairy and fatty foods. Whilst still enjoying wonderful creative healthy food it is completely guilt free. We create our recipes with thought, love and passion and you will feel it.
7. Inhale some good country Wicklow air
It sounds so simple but many of us overlook the importance of touching base with nature and deeply inhaling beautiful clean air. Getting a few hours of exercise in countryside can do wonders for our mind and spirit. Wicklow as you will know is known for it's beauty and deservedly inherited the name of The Garden of Ireland. The Courtyard is surrounded by beautiful mature forestry and rolling hills with endless bridle paths and forestry walks.
8. You'll make new friends.
You will meet people with similar interests. We attract such lovely people to our retreats and I am forever grateful for this as it makes our job even more enjoyable. Our groups gel so quickly. Whether you are alone, in a couple or come with a friend you will no doubt meet people with whom you have common interests, yoga for a start! I often see people exchanging contacts at the end of a retreat. Mainly people don't want to leave and some will book their next retreat before they have even left! This makes us feel great! It means we have done our job well!
9. You'll appreciate the retreat even when you get home
You will go home feeling refreshed with a greater appreciation for life. You will feel happier, healthier, and re-energized and ready to take on your usual routine but with a new energy and enthusiasm and you will feel happy that you have found somewhere like The Courtyard where you can come to retreat every year or a few times a year as some of our regulars do.
10. Your home from home!
From the time you arrive we encourage you to make yourself at home, our home is your home for the retreat and you will settle in and feel at ease straightway.
To view our exciting 2017 yoga retreat listing please click Yoga Retreats 2017