Mid Summer Wellness Weekend
28/06/2019 @ 4:00 pm
-
30/06/2019 @ 2:00 pm
€430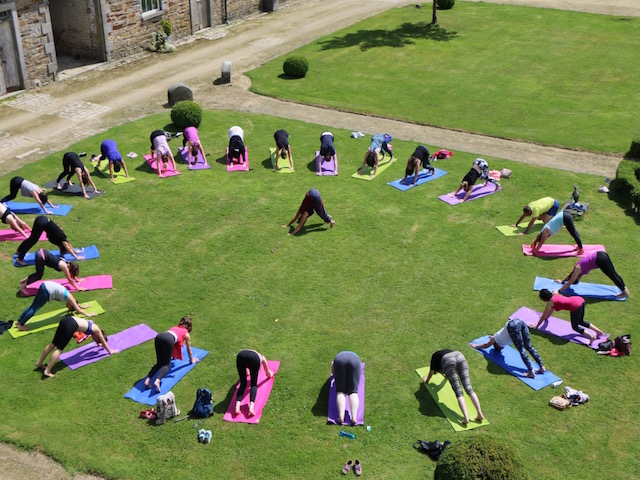 Mid-Summer Wellness Retreat
Liz Richards is our teacher for this beautiful retreat. Liz will lead you through a rich, peaceful & meditative journey through ancient, traditional Hatha Yoga practices and Somatic Movement. Olivia the owner and her team will spoil you with delicious home-made food throughout the weekend. The weekend is one of relaxation where you will put your feet up, enjoy top class yoga and meditation sessions. Yummy food and fun sociable meal times and an optional walks in fresh Wicklow air.
Using Vinyasa Krama and practices presented in the classical teachings of Patanjalis Yoga Sutras, Liz will guide you to the quiet mental and physical state of "sthira" (steadiness) and sukham (ease). Preparation for seated meditation begins with movement (yoga) and ends in stillness (meditation)
Throughout the weekend the four sessions will include:
-Classical Hatha-Vinyasa Yoga
-Pranayama (Breathing Techniques)
-Guided Meditations.
-Somatic Movement sequences (slow, gentle mindful movement practiced mostly lying down or seated)
– Restorative Yin Yoga
When threaded together in a flowing and mindful way these practices invoke an enquiring yet quiet and peaceful experience for all participants.
Friday evening
Somatic Movement & Meditation
Using inherent natural movement patterns and Somatic Movement Sequences we will ease out the body after a busy week and use some breathing techniques to prepare the mind for a guided meditation.
Saturday morning
This session will focus on yoga asana & breathing practices which address problems that can be present in the physical platforms and stabilizing junctions of the body – primarily the feet & ankles, hips & pelvis, shoulders & neck.  The health of the spine benefits hugely from these practices and facilitates more efficient breathing and co-ordination.
Saturday evening
We will take the fruits of the mornings practice with us into some spinal work which will include some Somatic Movement sequences and yoga postures which will liberate the front body.
Sunday morning
Drawing from all we have done in the previous sessions, the Sunday morning will bring everything together in an integrated and well rounded practice which will conclude with a 40 minute Restorative Yin Yoga practice using bolsters and props to ensure that everyone leaves feeling rejuvenated & energised yet peaceful, calm and rested.
Each student will be encouraged to work at their own pace and modifications and variations of each posture will be discussed and explored where necessary.  This will ensure that students of all levels from beginners to advanced practitioners will benefit from this retreat and will practice in a safe and non-competitive environment.  Liz is a highly qualified and dedicated teacher with vast experience. Her passion for yoga and teaching is outstanding.  Her teaching style is thorough and she is very conscientious that each and every guest gets maximum benefit from the retreat.
Drawing from over 15 years of combined study, teaching experience and personal practice – Liz uses refined specific approaches & modifications and variations where necessary to ensure that all students – regardless of age, ability or fitness levels receive the maximum benefits from their practices. She will guide each student safely – addressing problematic areas of the body such as hips, hamstrings, lower back, shoulders and neck – easing out stiff joints and tight muscles along the way. Liz has a unique way of using her skills to challenge those who are more experienced while nurturing those who are just beginning – all in the same environment.  As the body becomes more open and free through the tools of the practice – so too does the mind as it enters a more peaceful and meditative state.
Olivia and her team will be on hand throughout the retreat to host you and will spoil you with delicious food and tasty snacks. You will have access to an array of beautiful loose natural herbal teas, black tea and coffee throughout the weekend.
All levels are welcome.  We hope you can join us!
Retreat Schedule
Friday
16:00 -17:00 – Arrive, relax and settle & have welcome tea & healthy treat
18:00 – Our first class in The Carriage House – Duration 1.5 hour class
19:30 – Dinner
Saturday
09:00 – Tasty & healthy breakfast Jar & fruit
10:00 – Class – 2 hours
12:00 – Lunch
13:00 – 17:00 Free time
17:00 – 1.5 hour class
18:30 – Dinner
Sunday
09:00 – Tasty & healthy breakfast jar & fruit
10:00 – Class (2 hours)
12:00 – Lunch
13:00 – Relax
14:00 – Departure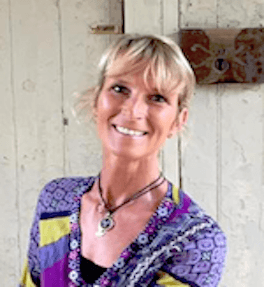 Naomi's classes are very special and gentle.  She has over 10 years teaching experience. Her teaching is well balanced, fun and gentle. Her style of yoga is hatha vinyasa and she teachers Mindfulness and facilities Meditation also. 
YOGA, MEDITATION

10 YEARS PLUS

500 HRS TT

Yoga, Meditation