Vinyasa Flow – Yoga as a Moving Meditation
09/11/2018 @ 4:00 pm
-
11/11/2018 @ 2:00 pm
€430.00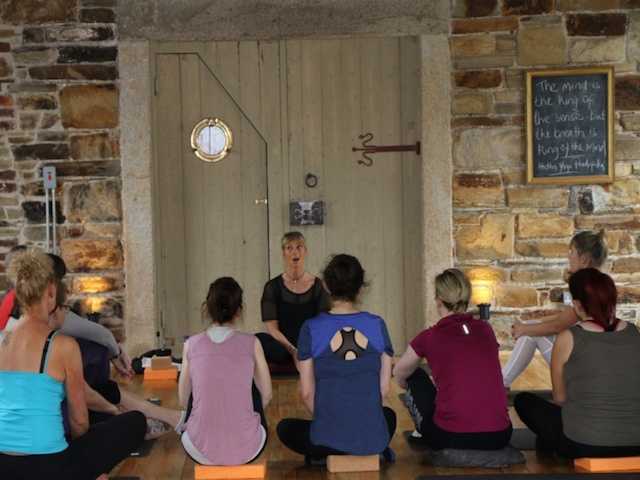 Vinyasa Flow – Yoga as a Moving Meditation
Highlights
• Beautiful vegan meals cooked by the owner Olivia, Ballymaloe Chef
• Disconnection from daily routine & stresses
• A warm welcome & friendly environment
• Beautiful accommodation in a very special place
• Fun & relaxation
• Inspirational yoga tuition with Liz Richards
• Fresh Wicklow Air and pure water
• Country walk
• A break
Join us for a rich, peaceful & meditative journey through ancient, traditional Hatha Yoga, Somatic Movement & Meditation. Using the Vinyasa style of yoga , Liz will guide you in a quiet and reflective way through the different layers of your being to the quiet mental and physical state of "sthira" (steadiness) and sukham (ease).
Benefits of this retreat.
Sometimes we feel a little off-centred, off balance, maybe lacking focus and also energy. This retreat will give you the opportunity to regain balance and focus, to connect with your true self and to restore your energy levels through the practice of vinyasa flow yoga, somatic movement and meditation.
Vinyasa is one of the most popular styles of yoga practised in the Western World today. Popular for it's flowing sequences. Vinyasa yoga enables you to form a strong mind-body connection and helps you grow in strength and flexibility through fluid and creative movement.Vinyasa is the Sanskrit word for "flow," and is known for fluid movements that build up in intensity. Vinyasa flows smoothly from pose to pose, creating a smooth rhythm.  Vinyasa can be  vigorous or slow moving sequences which generally build in intensity.  Vinyasa focuses on the breath and synchronized movement, moving from one pose to the next on an inhale or an exhale.
Liz will focus on the following areas: Alignment- correct posture, correct breath-work, the release of tension in the body and from the mind, focus and awareness, helping you to tune in to your inner body and tune out from external distractions.
Yoga as a Moving Meditation
Hatha is a general term which includes most styles of yoga. It is an old system that includes the practice of asanas (yoga postures) and pranayama (breathing exercises), which help bring stillness to the body and the mind, helping to prepare the body for deeper spiritual practices such as meditation.
The practice of yoga itself can be meditative and can be a special meditation though movement. You have probably experienced how great it feels when you complete a yoga class in which you have been fully focused and present. This state is a form of meditation, meditation through movement.
There is a quite lot to keep in mind during performing a yoga pose, trying to get the posture right. This level of attention provides so many benefits as well as the way into a deeper practice. If your mind wanders during the practice or you practice the asana carelessly, not only do you lose some of the benefits and but you risk strain or injury, so we need to keep focused and mindful. Liz will help you learn to maintain this attention and focus in order to deepen your practice. As the body becomes more open and free through the tools of the practice, so too does the mind as it enters a more peaceful and meditative state.
Preparation for the quiet mental qualities required for seated meditation begin with movement and end in stillness. From the beginning of each practice – mindful movement becomes the object of meditation. Throughout the weekend the four sessions will include Somatic Movement sequences (slow, gentle mindful movement practiced mostly lying down or seated), classical yoga asana (yoga postures), Pranayama (Breathing Techniques) & Guided Meditations. When threaded together in an intelligent, flowing and mindful way these practices as tools – invoke an enquiring yet quiet and peaceful experience for all participants.
Drawing from over 15 years of combined study, teaching experience and personal practice Liz has a huge wealth of knowledge of the practice and philosophy of yoga to share with you. She is one of the most experienced and well qualified yoga teachers in Ireland. She is a truly exceptional teacher.
Retreat Schedule
Friday
16:00 -17:00 – Arrive, relax and settle & have welcome tea & healthy treat
18:00 – Our first class in The Carriage House – Duration 1.5 hour class
19:30 – Dinner
Saturday
09:00 – Healthy, tasty breakfast Jar & fruit
10:00 – Class – 2 hours
12:00 – Lunch
13:00 – Free time
17:00 – 1.5 hour class
18:30 – Dinner
Sunday
09:00 – Healthy, tasty breakfast Jar & fruit
10:00 – Class – 2 hours
12:00 – Lunch
13:00 – Relax
14:00 – Departure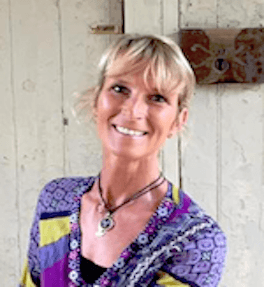 Liz Richards is a Yoga Alliance Certified instructor with over 700 hours training and 7000 hours teaching experience.  Liz has steadily earned a reputation of excellence throughout her yoga teaching career. Liz's enquiring mind and a desire to immerse herself more deeply in the philosophy behind the system of yoga and the hugely transformative nature of the practice led her to continually progress and further her own development and understanding of yoga and it's benefits.  Liz specialises in Classical Hatha Yoga using the Vinyasa Krama System for all levels from beginners to advanced students.
YOGA

15 YEARS

700 HRS TT

Hatha, Vinyasa Krama